Moss-Ridge Echo Jungle (CAE negative-Dec 2016)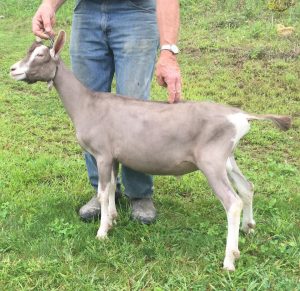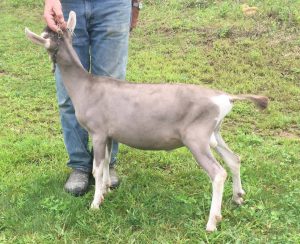 **2016-17 New Junior Herd Sire**
Sire: GCH Moss Ridge Frontier Echo – 4-03 EX 90 (VEE)
     Sire's Sire: Whisper 'N' Pines RMR Frontier
Sire's Dam: Moss Ridge Timothy's Emerald

Dam: GCH Moss-Ridge Tolsma Jinx – 3-04 EX 91 (EEEE)
   Dam's Sire: Moss-Ridge Timothy's Tolsma
     Dam's Dam:  Moss-Ridge Fritz Jasmine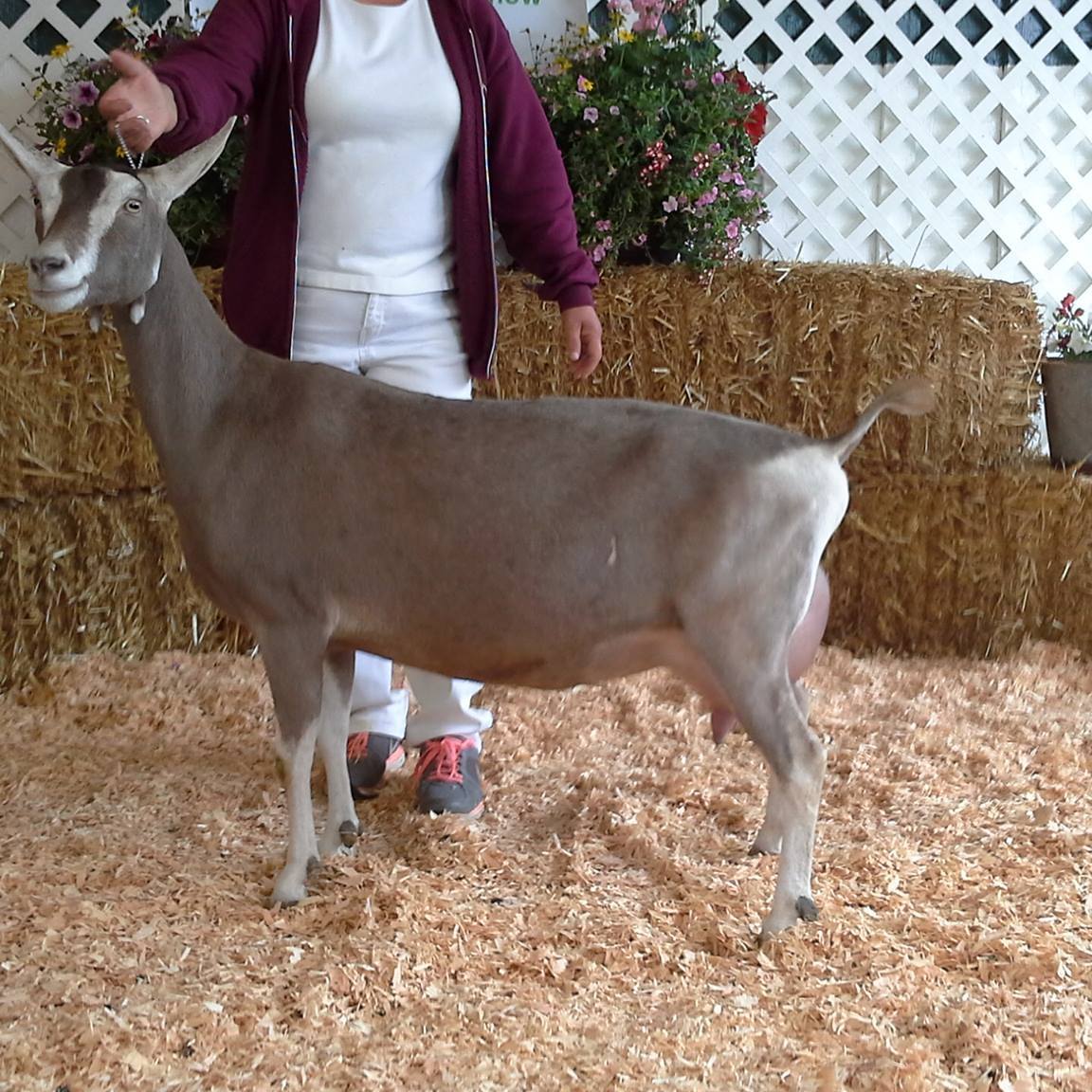 We've always admired the Moss-Ridge herd of purebred Toggenburgs for their consistency of strong type, dairyness, and beautiful mammary systems.  In adding Jungle to our sire line up, we know he comes from one of Tracey's most consistent dam lines and we are eager to see how he'll cross on our does.  Jungle was born a bit later in the spring, but has been confirmed bred to Rhapsody and Rhodanthe for late March kids.  He has also been bred to Winterberry for early May kids.
KBARC Rick's Evening Ranger – Senior Herd Sire – 2-03 VG 88 (VEV)

(CAE negative Dec 2016)
Sire: CH KBARC Ranger Rick – 8-01 EX 92 (EEE)
     Sire's Sire:  GCH Rowe's Maestro Ranger
Sire's Dam: GCH KBARC CFP Hoka

Dam: CH KBARC LGR XI Serpentis – 5-04 EX 91 (EEEE)
Dam's Sire: Lasenwood Goran Reposado
Dam's Dam: GCH KBARC FP Northern Star – 5-04 EX 92 (EEEE)

E-Ranger's Extended Pedigree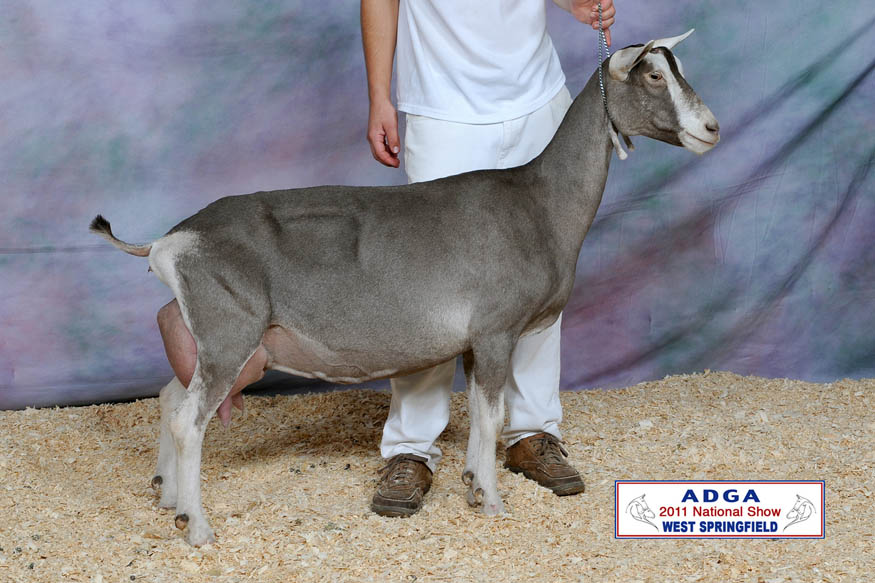 Top:  Evening Ranger's Dam Serpentis, 4th Place 4-Year Old, 2011 National Show
Bottom:  Evening Ranger's full sister, CH KBARC RR A-1, Appraised 5-04 EX 92 (EEEE)
Evening Ranger now takes over as our senior herd sire and we will be using him more heavily this fall, especially after seeing how he's crossed on our Chip daughter, Rhubiayat.  Her daughter by E-Ranger, Rhodanthe, was the 1st place Intermediate Kid at the 2016 National Show.  E-Ranger also sired two beautiful buck kids out of Rhomance in 2016, one of which is now in the K-BAR-C herd.  We love his powerful front end, beautiful head, and overall correctness.  Evening Ranger has been collected by Biogenics.  Semen is available from us:  5/$150.
KBARC Zim's Chippewa (Deceased)

***2016 Toggenburg Premier Sire, ADGA National Show***
2015 Toggenburg Premier Sire, Minnesota State Fair
4-03 92 (EEE)
Sire: KBARC KRX Zero Bar 3-03 EX 91 (EEE)
     Sire's Sire: CH KBARC Reposado's Xposado 3-03 EX 90 (VEE)
Sire's Dam: KBARC Sleeting Sundae 5-02 88 (VV+E) *Dam of the 2011 National Champion*

Dam: KBARC Pearl's Foolish Amethyst 4-02 EX 90 (EEEE)
*2nd Place Milking Yrlg. 2011 Nationals*
     Dam's Sire: GCH KBARC Chaos Fool's Pleasure
     Dam's Dam: CH KBARC RR Karmen's Wearinpearls
*Reserve National Champion, 2011 National Show*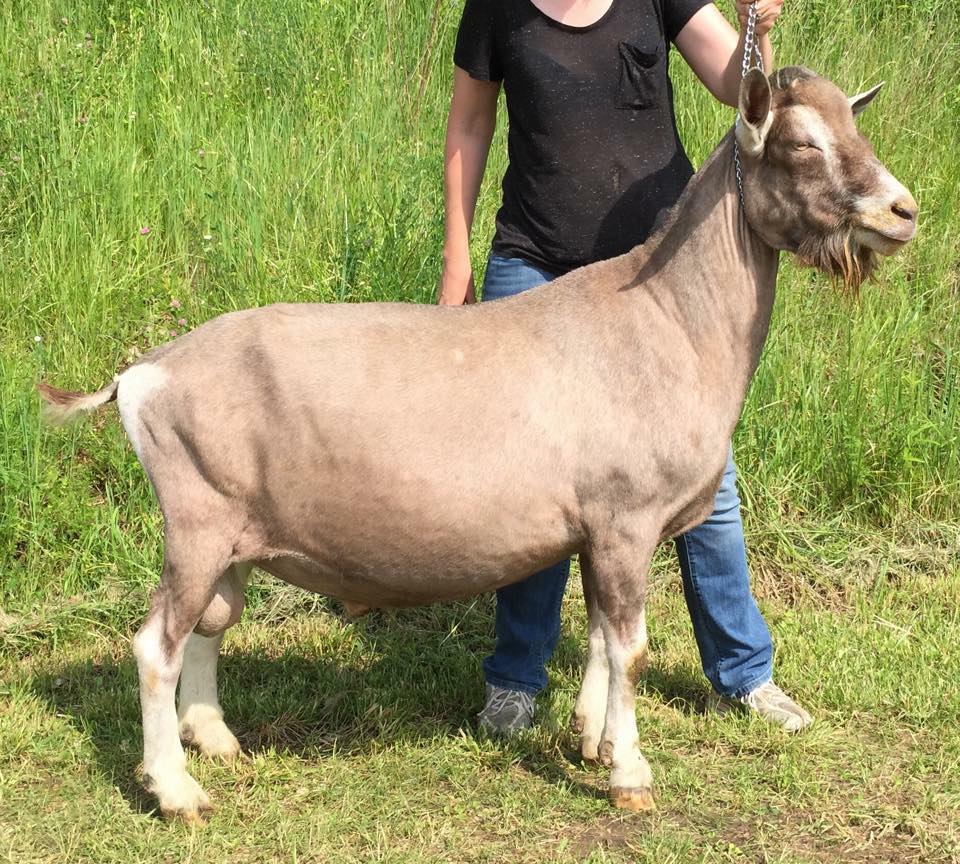 It was heartbreaking to lose Chip a few weeks after the National Show, especially on the heels of such success with his daughters at the 2016 National Show.  He has made an incredible impact on our herd in only 4 years, adding dairyness, length of body, refinement, improved teat size and placement, and milk!  He is now related to practically the entire herd, so his use in the future would have been more limited for us, but we are disappointed that he will not make a more sizeable influence on the breed.  We will be freshening 2 more Chip daughters out of Rhapsody next spring, and we currently have four milking daughters in our herd.He was collected, but only limited quantities are now left.  At this time, we have no semen for sale. 
 
---
AI SIRES FOR 2016/17
A note on AI Sires for 2016/17:
We plan to utilize the following sires through AI this fall.  In making these choices, we tend to select bucks that have a proven track record of improving the traits we seek.  Rather than extensive write ups and photographs, we've taken a slightly different approach this year to include links to more extensive information and/or photographs of offspring.  If you have any questions about our breeding program or any of the specific sires listed here, don't hesitate to contact Anna.  Feel free to check out our breeding list (which also includes or live mating back ups) to the left.
GCH +*B Canyon-View Mary's Maestro
Additional Information on Maestro
CH K-BAR-C Ranger Rick
Additional Information on Ranger Rick
GCH Rowe's Snowbuck Raven (American)
Additional Information on Raven
REFERENCE SIRES
*B  Sunshine Burta Burgeon – 3-04 EX 90 (VEE)
Sire: A/V Glacier View Jawbreaker
     Sire's Sire: *B Sunshine Zeadam Zonota
Sire's Dam: SGCH Sunshine Dandie Zashti
(BOB Winner at NAILE, MN State Fair, WI State Fair)

Dam: SGCH Sunshine Justice Burta (2005 Reserve National Champion; 6-08 92 EEEE)
 Dam's Sire: ++*B Sunshine Judyl Justice
Dam's Dam: Sunshine Kingpin Butra

Link to Burgeon's Full Pedigree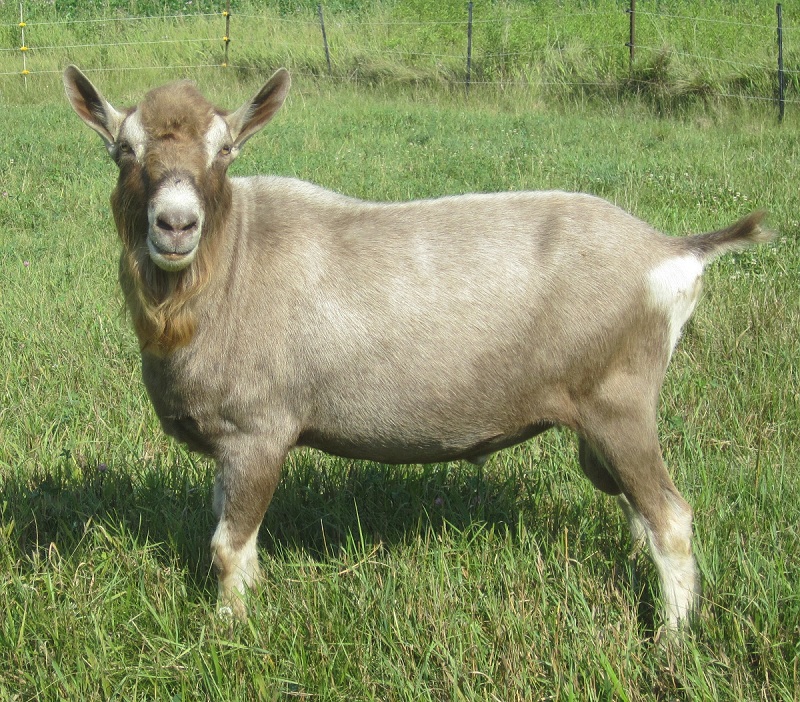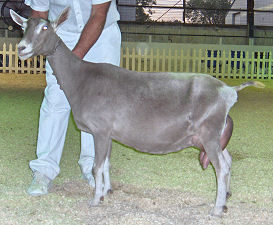 Burgeon in August of 2012              Burgeon's Dam: SGCH Sunshine Justice Burta
Burgeon is extremely dairy, wide in the rear, sharp, and correct. HIs dam, Burta, has borne some highly consistent sons in herds across the country and was an exceptional representative of the breed for both type and production.  Besides SG Legendairy SBB Rhoma who was the 5th Place 2-Year Old at the 2014 National Show, Burgeon sired Sunshine Buregon Lorat, the Toggenburg Best of Breed and Best Udder in Show at the 2014 Wisconsin State Fair.  Two more daughters in the Sunshine herd appraised excellent in the fall of 2014.  Burgeon definitely throws strength and power with lots of width throughout.  His milking daughters thus far have very fancy mammary systems as well, with high, wide rear udders and smooth, nicely extended fore udders.  Burgeon has been collected by Biogenics and is marketed through them as well.

---
+*B Marshland Regal J Starbuck     5 -03 92  (VEE)  2005 – Purebred *deceased*
(*First Place Senior-Get-of-Sire at the 2013 National Show!)
Sire: GCH Dionysius Cici's Chivas Regal ++*B
     Sire's Sire: GCH Swiss Chocolate Rocky Road ++*B
     Sire's Dam: GCH Sierra Hills Cici 4*M

Dam: SGCH Marshland Star of Jasmine
     Dam's Sire: +*B Marshland PP Jumanji
     Dam's Dam: SGCH Sugar and Spice Jasmine *M
Link to Starbuck's Full Pedigree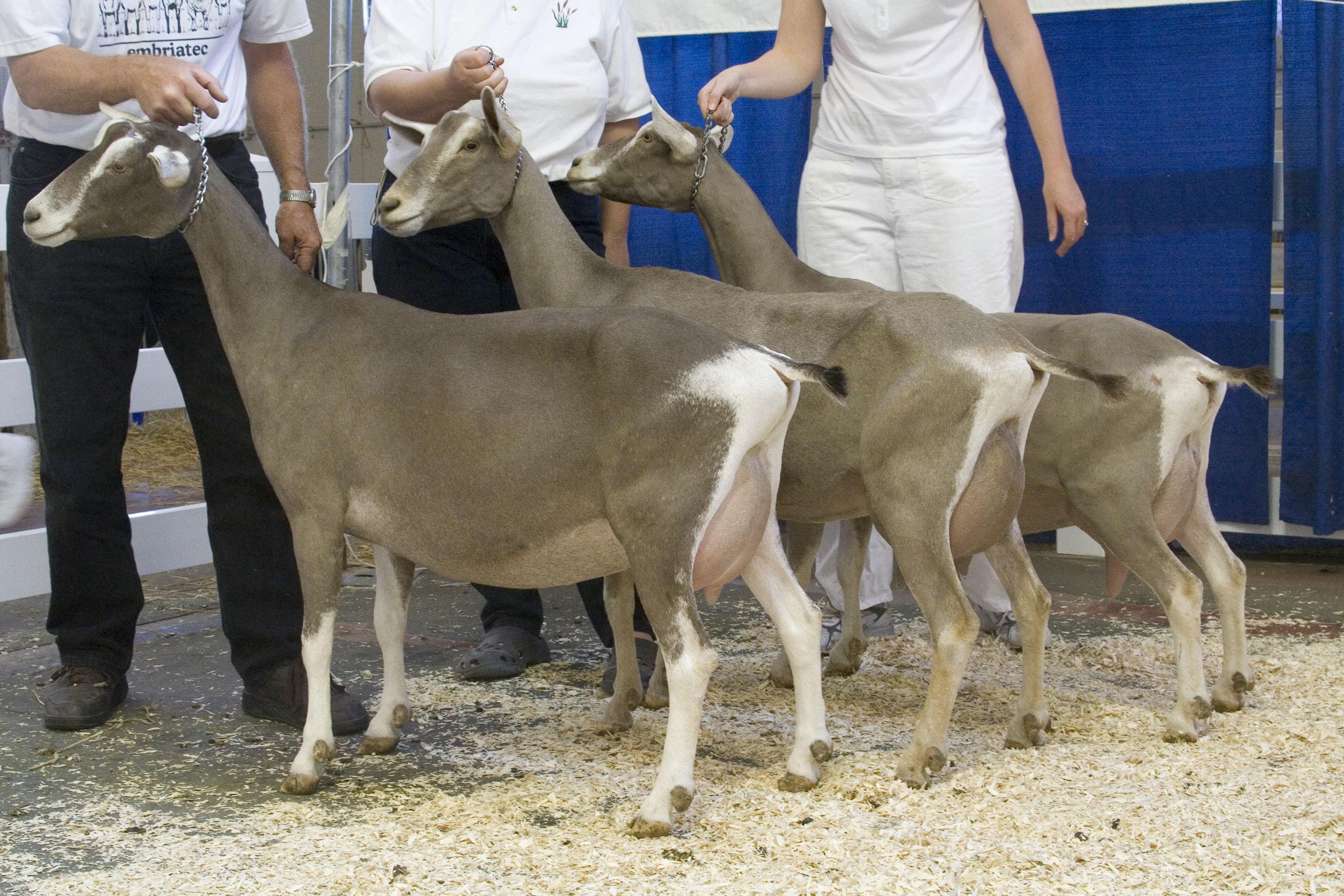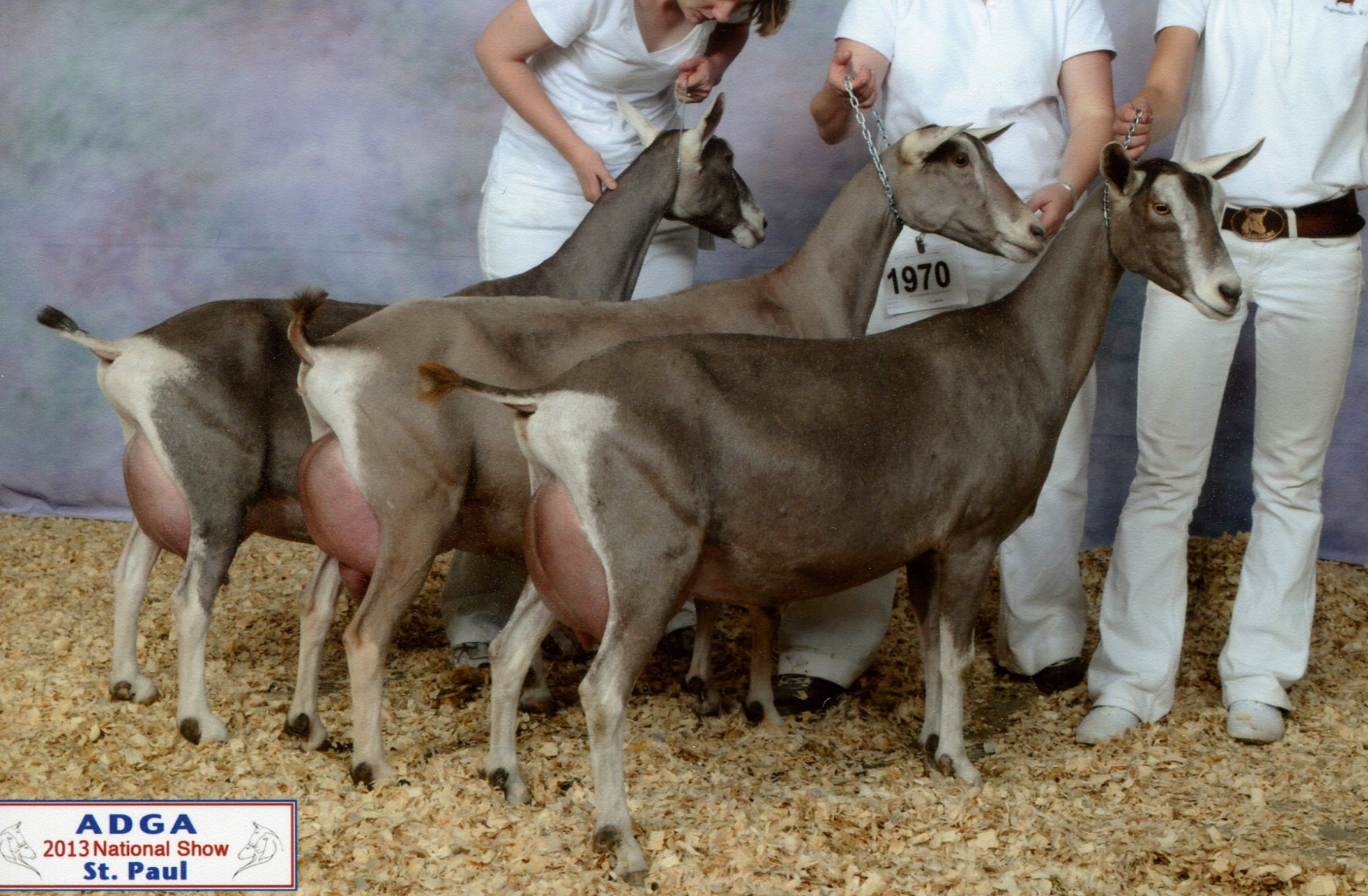 Starbuck Senior Gets in 2013 and 2008! 
At left, Rhumba, Rhapsody, and Brackett's Sunburst Luna 
At right, Rhumba, Rhone, and Knotneer MRS Tomato
Starbuck has played a major role in the development of our Toggenburg breeding program. He is the sire of Rhone, Rhumba, Rhapsody, as well as other top performing Toggenburg does throughout the Midwest. He was beautifully-bodied and has passed his size, correctness, and strength on to his offspring. He has sired breed leaders for production as well as the 2010 Toggenburg Premier Sire at Nationals, Legendairy Rhumba's Rhett owned by Redbird Acres. 

Starbuck will be with us for years to come through AI.
His semen is available through Biogenics, Ltd. or from the farm.

---