Legendairy Chip's Rhaffia
(D.O.B. 4/6/16  Purebred)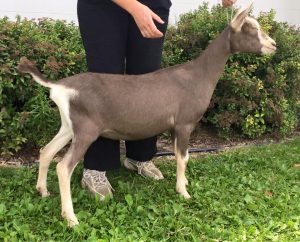 2nd place Jr Kid, 2016 ADGA National Show – Mark Baden
Junior Champion, 2016 Bluff Country Classic

Sire:  KBARC Zim's Chippewa
Dam:  GCH Paramount Star Rhapsody

Rhaffia has been bred to Evening Ranger this fall
---
 Legendairy Chip's Rhaffine
(D.O.B. 4/6/16 Purebred)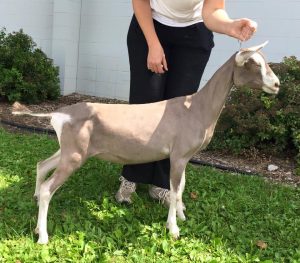 Jr Champion, 2016 Olmsted County Fair
Reserve Jr. Champion 2016 MN State Fair
Sire:  KBARC Zim's Chippewa
Dam:  GCH Paramount Star Rhapsody
Rhaffine is very upstanding, long and demonstrates a lot of width throughout.  We bred her to Evening Ranger this fall.
---
 Legendairy ER Rhodanthe
(D.O.B. 3/28/16 Purebred)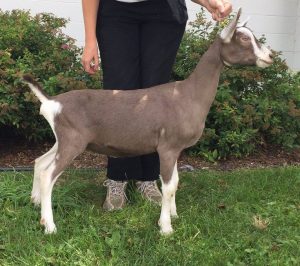 1st place Intermediate kid, 2016 ADGA National Show-Mark Baden
Jr. Champion Bluff Country Show, 2016
Sire:  KBarC Rick's Evening Ranger
Dam:  CH Legendairy Chip's Rhubiyat
Rhodanthe surprised us with her 1st place Intermediate kid win at the 2016 National being one of the smallest kids in the class.  She earned her dry leg at the Bluff Country show this fall and we are eager to see her freshen in late March.  She has been confirmed bred to Jungle.
---
 Legendairy Jasper's Rhanea
(D.O.B. 3/28/16 Purebred)
Not Yet Shown
Sire:  EVIE'S TOGGS STORM'S JASPER
Dam:  Legendairy KZC Rhainy Rhiver
Our only AI Togg doe in 2016, Rhanea is very correct but due to a rough start, didn't grow as well as her herd mates this summer and consequently wasn't shown.  She has caught up this fall and will be bred to Jungle for May kids